Transonix Studios
Welcome to Transonix
Transonix is a small company dedicated to designing and creating software that mimics environmental sound. We specialize in reproducing the atmosphere and ambience of nature. Our software can be used for enhancing concentration or relaxing. Try our software today!
Virtual Ambience 1.0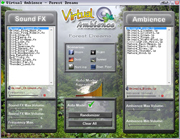 Virtual Ambience 1.0
Features:

Up to 32 simulatenous nature sounds.
Background ambience noise with random volume controls.
Sound effects with random panning and volume controls.
Randomize button.
6 pre-loaded scenarios.
Auto mode that controls the sounds settings with a changeable aggression level.
High quality realistic sounds.
Able to run from system tray.
Feedback or Comments